As we discussed in a previous bankroll management article, variance in poker is no joke! James Sweeney from SplitSuit Poker used a poker variance calculator to demonstrate just how bad poker variance can get for cash game players, complete with an awesome infographic!
Since nobody wants to spend their entire life trying to grind their bankroll from $5,000 to $10,000 by playing $1 multiplayer poker tournaments, you should make some adjustments that will allow you to invest a higher percentage of your poker bankroll without increasing your chances of going broke.
1. Supplement your Poker Bankroll with a Secondary Income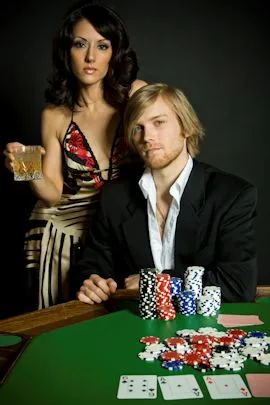 For non-professionals and even professionals with a second source of income, the first option is to simply increase the chance of going broke. In all of the examples in the previous articles, we already did this to a certain degree by accepting a 5% chance of going broke over each run of 1,000 tournaments. If poker is your only source of income, then a 5% chance of going broke would be too high (which is why we always included the minimum poker bankroll required to have just a 0.3% chance of going broke).
However, if you're a winning part-time player with a full-time job and maintain a bankroll of $1,000 or less, then you can afford to take a lot more risks. If you go broke, you can simply replenish your bankroll from your full-time earnings. As a winning player, you will still be removing more money from your bankroll than you will be spending to replace it. If replacing your bankroll with a secondary income is not a major hardship, then you can probably calculate your bankroll using the average plus a single standard deviation. This would give you a 67% chance to avoid going broke over each stretch of 1,000 tournaments.
If you are not taking winnings from your bankroll, then the above strategy will not work. For example, if your goal is to continually grow your bankroll to allow you to move up to higher stakes, then accepting an increased risk with the plan to replace your bankroll if you go broke will quickly turn you into a losing player who is constantly replacing his bankroll. Essentially, this is the equivalent of "letting it ride" in casino games. No matter how many times you win, you will eventually go broke and need to start all over again. If you keep doing this, then poker will become a rather expensive hobby, and this is precisely how winning players end up as big losers!
2. Adjust the Stakes you Play to Match your Bankroll
You can adjust the stakes you play to ensure that you never go broke. Let's assume that you have a bankroll of $5,000. Based on your ROI and average number of entries in the tournaments you prefer, let's assume you have calculated that you need a bankroll of 200 buy-ins to give you a 95% chance to avoid going broke. This means you should be playing $25 buy-in events. However, you could safely survive on a bankroll of 100 buy-ins if you were disciplined enough to drop down in stakes whenever your bankroll dwindled. That is, you would start off playing $50 buy-in tournaments. However, if your bankroll dropped to $4,000, you would play $40 buy-in tournaments. If it dropped further, you would adjust accordingly.
By adjusting the stakes you play to fit your current poker bankroll, you can "stretch" your bankroll.
By moving down in stakes as your bankroll dwindles, you are able to stretch your bankroll by getting more buy-ins at lower stakes.
| | | |
| --- | --- | --- |
| Bankroll | Buy-in | Buy-Ins |
| $5,000 to $4,000 | $50 | 20 |
| $4,000 to $3,000 | $40 | 20 |
| $3,000 to $2,500 | $30 | 17 |
| $2,500 to $2,000 | $25 | 20 |
| $2,000 to $1,500 | $20 | 25 |
| $1,500 to $0 | $15 | 100 |
| TOTAL | | 202 |
Note that this system still gives you a bankroll of 200 buy-ins, but it allows you to invest twice as much of your bankroll per tournament. Even if your bankroll drops by as many as 75 buy-ins, you are still only reduced to the originally calculated buy-in amount of $25. However, if you suffer more than 77 buy-ins in losses, you will be reduced below the original buy-in amount. The only downside to this technique is that if you do suffer major losses, it can take longer to climb out of the hole (since you will be investing less per tournament).

Do NOT use this method as an excuse to take excessive risks or you will constantly be dropping down in stakes. Your goal is to move up in stakes, not down. Every time you move down in stakes, you are taking a significant setback that will dramatically impact your future earnings. I would suggest using this mitigating factor to cut your required bankroll in half, no more. If you have a $1,000 bankroll, you should NOT be playing $100 tournaments!
Obviously, winning players want to risk as much as possible per tournament, but you still need to keep in mind the ultimate goal of avoiding going broke! As long as you have a bankroll, you have a future in poker.

3. Play Tournaments with a Flat Prize Structure
The more top-heavy a payout structure is, the more variance you will experience in your results (i.e. higher highs and lower lows). While top-heavy payouts may provide you with a better ROI (assuming you are better at winning than your opponents), they will also require a larger bankroll to manage the extreme swings in results.
Let's compare two tournaments of roughly equal size:
$5.50 buy-in tournament with 122 entries at PokerStars
$4.40 buy-in tournament with 124 entries at Full Tilt
Position
PokerStars
Full Tilt
Buy-ins
Prize
Buy-ins
Prize
1st
$132.76
24.1
$148.80
33.8
2nd
$94.55
17.2
$94.24
21.4
3rd
$73.20
13.3
$65.72
14.9
4th
$51.85
9.4
$52.08
11.8
5th
$33.55
6.1
$37.20
8.5
6th
$27.45
5.0
$27.28
6.2
7th
$21.35
3.9
$18.60
4.2
8th
$16.77
3.0
$14.88
3.4
9th
$13.72
2.5
$11.16
2.5
10th – 12th
$13.72
2.5
$8.68
2.0
13th – 16th
$10.67
1.9
-
-
17th – 24th
$7.62
1.4
-
-
Given these payout structures, and assuming a 20% ROI in each tournament (with equal chance of finishing in each of the money positions), the table below summarizes the key information for calculating your minimum required bankroll:
| | | |
| --- | --- | --- |
| | PokerStars | Full Tilt |
| Range of Largest Downswing | 31 – 190 buy-ins | 43 - 219 buy-ins |
| Avg. Max Downswing | 68.6 buy-ins | 98.8 buy-ins |
| Std. Dev. of Max Downswing | 26.0 | 35.3 |
| Minimum Bankroll (95%) | 121 buy-ins | 170 buy-ins |
| Minimum Bankroll (99.7%) | 147 buy-ins | 205 buy-ins |
Full Tilt's tournament with the more top-heavy payout structure requires a bankroll that is 40% larger!
Play tournaments with a flatter payout structure as this will reduce your bankroll variation and thus allow you to invest a larger percentage of your bankroll per tournament. Many sites allow you to win "tournament dollars" from satellites. This makes these satellites one of the lowest variance tournaments available (since all winning positions pay THE SAME)!
4. Play Tournaments with Smaller Fields
Even if you prefer massive multiplayer tournaments, learn to play smaller events as well. Smaller field tournaments have significantly less poker variance, which can mitigate the extreme variance of large field events.
As we demonstrated in the previous article in this series, there is so much poker variance in massive field tournaments that they are essentially like gambling on the lottery. After 1,000 tournaments, only 109 of our 200 sample winners (each with an expected ROI of 23.9%) actually showed a profit in the PokerStars Sunday Million. If you enjoy large field tournaments, and want to use them as a chance to "take a shot" at a big win, that's fine. However, if you want to be a profitable poker player, large field tournaments should NOT compose the bulk of your poker.
Let's compare the profitability of each of the examples we have presented so far in the previous two articles:
Heads-up sit & go's with a 55% win rate and 8% ROI

10-player sit & go's with a 14% ROI

45-player sit & go's with a 21% ROI

Massive field tournaments (5,000+ players) with a 24% ROI

Rather than trying to calculate the bankroll required to play a tournament of a given buy-in, let's assume you have a bankroll of $1,000. We will then use your minimum bankroll requirement to calculate the buy-in you should play. That is, since you need a bankroll of 33.3 buy-ins to have a 95% chance to avoid going broke over 1,000 tournaments for heads-up play, your buy-in should be $30.
$1,000 / 33.3 buy-ins = $30
We will assume you will play 1,000 tournaments at this buy-in and achieve your expected ROI by the end of the 1,000 tournaments.
| | | | | |
| --- | --- | --- | --- | --- |
| | Heads-Up | 10-player SNG | 45-player SNG | 5,000+ entry MTT |
| Return on Investment (ROI) | 7.9% | 13.6% | 21.0% | 23.9% |
| Min. Bankroll (95%) | 33.3 buy-ins | 53.6 buy-ins | 82.6 buy-ins | 473 buy-ins |
| Optimum Buy-In Amount | $30 | $18 | $12 | $2 |
| Expected Profit | $2,370 | $2,448 | $2,520 | $478 |
Note that even though you have the highest ROI in large field tournaments in our example, they are by far the least profitable. This is because you need a poker bankroll that is so incredibly large to handle the huge variance that you can only invest a small portion of your poker bankroll (0.2%) each tournament. Even worse, since there is so much poker variance, it is entirely possible that after 1,000 such tournaments you will be in the red (and possibly deep in the red). Of course, because of this same variance, these tournaments also offer the biggest potential winnings. If you are looking to gamble, then large field tournaments will offer you exactly that – a chance to risk your entire poker bankroll for a shot at getting rich. If instead you play either of the other 3 formats, you are almost guaranteed to come out ahead after 1,000 tournaments. That is, the variance from the expected ROI will be MUCH less. Of course, you are also much less likely to get rich quick. If your goal is to get rich quick, then I've got an excellent investment opportunity for you: you see, there's this exiled Nigerian prince…
Not only do smaller field tournaments have less poker variance, but because you can invest a larger percentage of your poker bankroll each event, they are significantly more profitable, even if you have a much smaller ROI in such events!
You may still choose to play large field tournaments in order to take a shot at a big win. However, your participation in these events should be rare, and you should never buy-in for more than 0.2% of your current bankroll.
5. Improve your Win Rate
One of the biggest factors in calculating your bankroll requirements is your win rate (BB/100 hands for cash, ROI for tournaments & sit and go's). There are actually two completely different aspects of your win rate that you need to consider:
How frequently you win (% in the money for tournaments & SNGs, % winning sessions for cash)
How much you win/lose (standard deviation of results)
Obviously, the more frequently you win and the more you win (and less you lose) each session, the less variance your bankroll will incur. Loose players tend to win bigger, but also lose bigger and thus will require a larger bankroll to handle these increased swings. Tight players will experience much less variance in their results, but this comes at a price - predictability. Loose aggressive players typically win more in the long run...but only if they learn to manage their bankroll and account for the additional variance this style of play incurs!
For tips on how to improve your win rate, check out Howtoplaypokerinfo.com's Poker Cheat Sheet. If you are really serious about improving your game, consider hiring a poker coach! You can get one-one-on poker coaching from Alec Torelli, or hire James "SplitSuit" Sweeney if you prefer 6-max and full ring poker coaching. For MTTs, consider this video course from PokerNerve.com. You can also purchase excellent poker training videos from MyPokerCoaching.
If your bankroll has taken a big hit in recent sessions, tighten up your play! Not only will this throw off your opponents
Calculating Poker Bankroll by Field Size
If you know your ROI (which you will only know by playing thousands of tournaments), then you can estimate your bankroll requirements using the tables in our next article in this series.
Are you convinced that small field tournaments are the way to go? We'd love to hear your feedback in the comments below!