Update (October 2021)
PokerStars have once again revamped their Stars Rewards program. The new rewards program is much better, but to find out how it compares to other online poker site rewards, we strongly recommend reading our full PokerStars Stars Rewards rakeback analysis.
Update (March 2019)
At the end of March 2019, PokerStars once again changed the Stars Rewards program. We orginally planned to update this article, but instead decided to leave most of the information as originally written and instead publish an updated analysis of the Stars Rewards rakeback program. This allows you to compare the changes, which does an excellent job of highlighting just how greedy PokerStars has become (and how little they care about their customers).
We also did not want to hide the fact that we originally thought the Stars Rewards program was an innovative approach to better sustaining the online poker economy by rewarding "net depositors", and all but eliminating the rewards for winning players (whose winnings should be reward enough to keep them playing).
However, with the additional massive cuts to rewards across the board (including for the "net depositors"), combined with the 3-4 increases in rake implemented by The Stars Group since they acquired PokerStars in 2014, we no longer recommend downloading PokerStars. While Stars Rewards originally appeared to be an effort to better sustain the poker economy, it has become clear that it was only ever intended to increase profits by reducing rewards.
Stars Rewards Overview
The amalgamation of PokerStars and Full Tilt was essentially completed when PokerStars eliminated the Supernova rewards program and replaced it with the Stars Rewards program on both sites. With this change, there is no longer any difference between PokerStars vs Full Tilt poker.
This loyalty program represents more than just the amalgamation of the two sites - Stars Rewards is a radical concept shift for online poker rewards. Typically, online poker sites reward players based on volume. That is, the more rake (and tournament fees) you pay, the higher your rakeback rewards. This was certainly the case with the PokerStars Supernova program, where players paying in excess of $180,000/year in rake and fees were earning as much as 69% rakeback with PokerStars!
In this article, we will explain the new PokerStars Stars Rewards program and calculate the value of each chest, as well as the overall rakeback rewards you can expect to receive. We will also compare the new Stars Rewards program to the old Supernova VIP loyalty rewards, and show that although Stars Rewards are much worse for a select few, it is actually better for many. Finally, we will discuss the thinking behind such a major paradigm shift in online poker rewards, and whether this is good for the game. We will also raise the topic of the legality of discriminating against winning poker players.
PokerStars Stars Rewards
Although most PokerStars regulars hate the new Stars Rewards program, it's not nearly as bad as everyone seems to think. In fact, for many players, Stars Rewards represents a significant upgrade in rewards!
With Stars Rewards, you earn 1 reward point for every 1¢ you pay in rake or tournament fees.
UPDATE: As of 15 Feb 2019, MTT players will receive just 45 reward points for every $1/€1 paid in fees. That's a 55% reduction in rakeback rewards! This is just the first of several planned changes to the Stars Rewards program planned throughout 2019. Read more about the upcoming changes to the Stars Rewards program in this blog post by Severin Rasset, PokerStars Director of Poker Innovation and Operations.
As soon as you earn enough reward points you receive a Stars Rewards chest, which you can open to receive a random prize. If you earn 4 chests of the same type on the same day, you move up to the next reward chest (e.g. from Red to Blue), which requires more reward points to open, but also offers higher value rewards. If your last 3 chests were opened on different days, then your next chest will be 1 rank lower (with a lower reward point requirement).
With Stars Rewards, you also receive a "boost", which doubles the number of reward points you earn while it is active. Each boost is based on points, not time. For example, a typical boost for a Red Chest is 75 points, which means that while this boost is active, you will earn double the number of reward points for the next 75¢ you generate in rake or tournaments fees (gaining 150 reward points total, instead of the normal 75). Once the boost is used up, you go back to receiving 1 reward point for every 1¢ paid in rake and fees. After completing a boost, you get a new boost 8 hours later, which means it is possible for casual players to always have a boost active!
The confusing aspect of the Stars Rewards program is that the reward point requirements for each chest varies based on your player profile (and the variation can be huge). The size of your boost also varies based on your player profile. Although other factors contribute to your profile, the biggest is whether you are a break-even player, net depositor, or net withdrawer.
| | | | | | | |
| --- | --- | --- | --- | --- | --- | --- |
| Chance | Red | Blue | Bronze | Silver | Gold | Platinum |
| 0.01% | $50 | $100 | $250 | $500 | $750 | $1,000 |
| 5% | 70¢ | $2.10 | $5.30 | $13.50 | $34.35 | $103.70 |
| 7% | 42¢ | $1.26 | $3.18 | $8.10 | $20.61 | $62.22 |
| 13% | 14¢ | 42¢ | $1.06 | $2.70 | $6.87 | $20.74 |
| 15% | 12¢ | 37¢ | 95¢ | $2.43 | $6.18 | $18.66 |
| 18% | 9¢ | 29¢ | 74¢ | $1.89 | $4.80 | $14.51 |
| 20% | 8¢ | 25¢ | 63¢ | $1.62 | $4.12 | $12.44 |
| 21.99% | 7¢ | 21¢ | 53¢ | $1.35 | $3.43 | $10.37 |
| Wt. Avg. | 15.3¢ | 46.2¢ | $1.17 | $2.97 | $7.50 | $22.52 |
PokerStars Rewards Chests
The rewards from each Stars Rewards chest vary greatly in value, making them more like a lottery than a typical rakeback rewards program. While most grinders would prefer a steady, guaranteed PokerStars rakeback, the random nature of the Stars Rewards chests is very appealing to casual players and gamblers. The entire system is very similar to what you see in online games, and even the animations for opening chests is designed to maximize the excitement for the player.
Although we will use the average weighted value of each chest to calculate your expected PokerStars rakeback rewards, it is important to note that your actual Poker Stars rakeback could be signficantly higher or lower than our calculations indicate due to the variation in rewards chest values. Also, chest rewards are not always cash. Instead, your rewards may be any combination of:
Cash
Tournament tickets
Stars Coins
While PokerStars claim that they use your player profile to customize your rewards, plenty of cash game players have complained about receiving tournament tickets.
PokerStars also offer Featured Rewards, which are typically linked to major upcoming live and online tournaments. Featured Rewards are in addition to the regular Stars Rewards, thereby increasing the average weighted value of each chest.
PokerStars Starcoins
StarsCoins can be exchanged in the PokerStars Rewards Store for cash, tournament tickets, or various PokerStars apparel and paraphernalia. The exchange rate is 1¢ per StarsCoin, although you can get more value from your StarsCoins with The Deal. Learn more about how to get the most from your Stars Coins in the maximizing your PokerStars rakeback section of our PokerStars review.
Chest
Rewards

Avg. Reward

Freeroll
Red
7¢ - $50
18¢
$5,000
Blue
21¢ - $100
51¢
Bronze
53¢ - $250
$1.29
$10,000
Silver
$1.35 - $500
$3.22
Gold
$3.43 - $750
$8.00
Platinum
$10.37 - $1,000
$23.52
Weekly Stars Rewards Freeroll Tickets
Additionally, PokerStars rewards chests have a 10% chance of including a ticket to a weekly freeroll. Players who open Red or Blue chests have a 10% chance of receiving a ticket to the weekly $5,000 freeroll (average value = 33¢), while players who open Bronze, Silver, Gold or Platinum chests have a 10% chance of receiving a ticket to the weekly $10,000 freeroll (average value = $2.33).
Although we have not added the value of the weekly freerolls to the average weighted value of each chest, we have included them in our overall PokerStars rakeback calculations.
PokerStars Rakeback Calculator
Each PokerStars Stars Rewards chest you open also provides a number of bonus reward points towards your next chest (displayed as green numbers that appear after your cash, tournament ticket and StarsCoins rewards). The number of bonus reward points is variable, with 3 different values for each chest. For example, a Red rewards chest will give 5, 15, or 25 bonus reward points.
Chest
Avg.
Value
Avg.
Bonus
Best
Typical
Worst
Cost
Boost

RB

Cost
Boost

RB

Cost
Boost

RB

Red
18¢
15
150
75
27%
200
75
16%
550
45
3.7%
Blue
51¢
32
320
160
36%
450
160
20%
1,500
100
3.8%
Bronze
$1.29
72
720
360
40%
1,000
360
23%
4,500
215
3.1%
Silver
$3.22
160
1,850
800
36%
2,250
800
25%
13,500
480
2.5%
Gold
$8.00
360
4,250
1,800
38%
5,250
1,800
26%
35,000
1,080
2.4%
Platinum
$23.52
800
8,000
4,000
65%
12,750
4,000
30%
95,000
2,400
2.6%
It is difficult to provide a true PokerStars rakeback calculator because your earned rakeback is entirely dependent on your player profile. Although we have attempted to summarize the possible combinations of reward chest costs and boosts in a table, there are actually many more possible combinations for each chest. That is, if you are a net depositor, your actual rakeback rewards will likely be somewhere between the "Best" and "Typical" cases. Likewise, net withdrawers will likely receive rakeback rewards between the "Typical" and "Worst" values. Only the most extreme net depositors and net withdrawers will receive the average rakeback rewards shown in the table for the "Best" and "Worst" combinations.
Please note that our equivalent rakeback calculations are based on the weighted average of the rewards from each chest. That is, you are unlikely to receive the exact rakeback our tables indicate. This is part of the draw of the Stars Rewards program - the opportunity to earn a big prize!
You may have seen similar analyses on other poker websites and noticed that our equivalent rakeback numbers are slightly higher. This is because our analysis is far more comprehensive and includes many of the factors that most others leave out (freeroll tickets, bonus reward points, and Featured Rewards). Also, it is incorrect to calculate PokerStars rakeback per chest because it is very rare that every chest will benefit from a full boost. We will present more accurate PokerStars rakeback calculations in the section comparing Stars Rewards to the old Supernova system.
Keep in mind that the information in this article represents the original PokerStars Stars Rewards program. PokerStars have slashed Stars Rewards for all players when they revamped the program. Red chests are no longer offered, all chests have higher costs, and boosts are no longer available.
Enjoying what you have read so far? Why not share this article with your friends?

Simply click one of the icons on the left of your screen to share a link to this article on the social network of your choice!

Enjoying what you have read so far? Why not share this article with your friends?

Simply click one of the icons at the bottom of your screen to share a link to this article on the social network of your choice!
PokerStars Supernova VIP Program
The Supernova VIP program was easily the most recognizable online poker rewards program. This was a traditional rakeback-based rewards program that rewarded players purely on volume of play. That is, the more money you contributed in rake and fees, the more money you received as rewards. Since winning players are the ones most interested in playing as much as possible, they were the primary beneficiaries of the Supernova rewards program.
PokerStars VIP Levels
| | |
| --- | --- |
| Game | VPPs / $1 |
| Tournaments & Sit-and-Go's | 5.5 |
| Full Cash Games >5¢/10¢ | 6 |
| Heads-Up Cash Games >5¢/10¢ | 5.5 |
| 6-Handed Cash Games >5¢/10¢ | 5.5 |
| 1¢/2¢ NL & PL Cash Games | 10 |
| 2¢/5¢ NL & PL Cash Games | 8.5 |
| 5¢/10¢ NL & PL Cash Games | 7 |
Like many online poker loyalty rewards systems, the Poker Stars Supernova program used status points. Players earned a number of VIP Player Points (VPPs) for every dollar of rake or fee paid, based on the game they were playing (between 5.5 and 10 VPPs per $1 rake).
The number of PokerStars VPPs you earned in a month determined your status level for that month and the next. VPPs were only used to determine your status level. Frequent Player Points (FPPs) were the PokerStars reward currency, and your status level determined how many FPPs you earned for each VPP. This is a fairly common online poker loyalty rewards program format, and is still used on many online poker sites, such as bwin, True Poker, BoyleSports Poker, William Hill Poker, and Winner Poker.
| | | |
| --- | --- | --- |
| Status Level | VPP Requirement | FPP / VPP |
| Bronze | 0 / month | 1.0 |
| Chrome | 100 / month | 1.0 |
| Silver | 500 / month | 1.5 |
| Gold | 2,500 / month | 2.0 |
| Platinum | 7,500 / month | 2.5 |
| Supernova | 100,000 / year | 3.5 |
| Supernova Elite | 1,000,000 / year | 5.0 |
Similar to StarsCoins, Frequent Player Points could be exchanged for various rewards such as tournament tickets, cash, or PokerStars apparel and paraphernalia. The biggest difference between FPPs and StarsCoins is that players with higher PokerStars VIP levels received access to higher cost rewards, which offered better FPP exchange rates.
In addition, Poker Stars players earned milestone bonuses (called VIP Stellar Rewards) throughout the year upon reaching certain VPP milestones.
PokerStars Supernova Elite
| | | | |
| --- | --- | --- | --- |
| Reward | FPP Cost | FPP/$1 | Min. Status |
| $10 | 1,000 | 100 | Bronze |
| $25 | 2,250 | 90 | Silver |
| $75 | 6,250 | 83.3 | Gold |
| $200 | 15,400 | 77 | Platinum |
| $600 | 40,000 | 66.7 | Supernova |
| $1,600 | 100,000 | 62.5 | Supernova |
As you can imagine, the Supernova and Supernova Elite status levels were highly sought after. Not only were these players earning more FPP per $1 paid, but they also received significantly better FPP exchange rates. As a result, Supernova players were earning as much as 46% rakeback, and Supernova Elites were getting as much as 69% rakeback from PokerStars.
While these are some industry-leading rakeback figures, it was no mean feat to earn these status levels. To become a Supernova player, you needed to contribute roughly $20,000*/year in rake or tournament fees, and for Supernova Elite, it was $100,000*/year!
*The amount varies slightly based on the games played, since you earned different VPPs/$1 by game type
Supernova Rakeback vs Stars Rewards
So, how does the new Stars Rewards program compare to the old Supernova system? Well, if you were previously a Supernova or Supernova Elite player, you have undoubtedly already figured out that you are getting the shaft.
Winning Supernova Elite players suffered a rakeback decrease from 69% to 5% with the introduction of the Stars Rewards program. Click to Tweet
Annual
Rake
Supernova
Rakeback
Net Depositor
Rakeback
Break-Even
Rakeback
Net Withdrawer
Rakeback
$0 - $200
11.2%
25.2%
18.4%
5.9%
$201 - $800
15.5%
18.5%
12.0%
3.8%
$801 - $4.5K
22.2%
24.0%
13.4%
3.6%
$4.5K - $13K
29.1%
28.1%
20.2%
3.4%
$13K - $30K
31.5%
34.5%
21.5%
3.0%
$30K - $100K
39.9%
43.9%
25.2%
2.5%
$100K+
62.0%
35.1%
21.2%
2.6%
The issue is that most Supernova and Supernova Elite players were either winners, or break even players (who made their money on rakeback rewards alone). Not many poker players are willing to pay in excess of $20,000 in rake if they are losing! Since net withdrawers earn such little rakeback from the new Stars Rewards program, these players are probably better off playing their online poker elsewhere.
In 2018, PokerStars suddenly doubled the points requirement for net withdrawers with no notice, essentially halving the paltry rakeback winning players were already receiving. It feels as if Amaya plans to just keep punishing winning players until they quit the site.
MTT players will earn just 45% of the listed rakeback rewards, since they now earn just 45 reward points per $1/€1 paid in fees, as of 15 Feb 2019. That is, an MTT player who pays $0 - $200 per year in fees will earn just 11.3% rakeback if they are a net withdrawer, 8.3% rakeback if they are a break-even player, and 2.7% rakeback if they are a net withdrawer.
Typically, our top recommendation for these players is Americas Cardroom, where players who generate less than $18,200/year can earn 27% rakeback. Players who generate more than $18,200/year in rake and fees can actually earn over 160% rakeback with Americas Cardroom. I know, that sounds like clickbait bullshit, and honestly, I wouldn't blame you for not clicking that link. However, it's absolutely true - the excessive rakeback comes from The Beast, the Winning Poker Network's incredible leaderboard rewards.

Please disable Ad-Block on this site if you are unable to see the banner above
Of course, currently no other site can compete with PokerStars in terms of traffic. However, if traffic is more important than rewards, PartyPoker is probably your best choice. If you do not pay at least $25/week in rake and fees, then join Bwin instead, as PartyPoker offers 0% rakeback unless you rake at least $25/week!
To find out which poker site offers you the lowest net cost (rake/fees - all rewards), click here.
At first glance, our rakeback comparison table makes the Stars Rewards program look just awful. Each red cell is a Stars Reward that offers less equivalent rakeback than the old Supernova program, and there's an abundance of red cells! However, the table is not a good representation of population. That is, there are far more players in the "$0 - $200" category than there are in the "$30K - $100K" or "$100K+" categories. However, regardless of the amount you rake, if you are a winning player, you are earning far less with Stars Rewards than you did with the Supernova program.
Winning poker players earn FAR LESS rakeback with Stars Rewards at PokerStars than they did with the Supernova program! Click to Tweet
Is This the New Normal?
PokerStars and Full Tilt have always been industry leaders, so is this new style of rewards program going to be adopted by other online poker sites as well? To answer that question, we first need to understand the advantages of each system to the site.
Online Poker Sites Traditionally Reward Winners
For an online poker site to be successful, the first thing they need is a large player base in order to fill the tables. For a new site, winners (especially professionals) are much more valuable because they provide so much more volume of play. Consider 3 different players:
As we can see from the table above, a professional player might provide 10 times the volume of play as an Enthusiast level player, and 480 times the volume of a casual player who quits playing after 3 months. In other words, getting this online poker pro to play on your site provides the same volume of play as 10 Enthusiasts, and the same as 480 casual players!
As a result, online poker sites typically cater their rewards towards the professionals. Not only do these players provide far more volume of play, but they are also more likely to understand the promotions on offer, and choose a site based on overall reward value. By comparison, casual players rarely pick a site based on its rewards programs. If you want proof, consider that PokerStars grew to be the world's largest online poker site while having one of the worst rewards programs for casual players!
Why did PokerStars Start Rewarding Depositors?
Since poker played outside of home games is not a zero sum game, the economy relies on depositors, and yet these players are typically not given any special treatment. In fact, it's usually the "net withdrawers" (AKA, the pros and the grinders) who get all the rewards. Remember, that with the old Supernova program winning players were earning as much as 69% rakeback! PokerStars realized that rewarding players who are already winning is pointless, so they shifted their focus to the players the game needs most to survive: net depositors. Since they already have a huge volume of players, they no longer need to offer amazing promotions to attract the pros.
The problem with the traditional approach is that players paying the most rake are almost always winners. Winning players are already taking money out of the poker economy, so any additional money given to these players also leaves the poker ecosystem. This constant drain on the poker economy is likely the biggest reason why traffic on almost every major online poker site has been declining over the past few years. By contrast, reward money given to losing players is much more likely to be put back on the table. Rewarding losing players also reduces their overall losses, which should keep them around longer. The majority of poker players play the game for fun, and do not care that they are not winning - poker is a fun way to pass the time, and they consider their losses as an entertainment expense (like going to the movies, or to a club). However, if this expense exceeds the enjoyment they derive from the game, these players quit playing.
The poker economy relies on depositors, not winners, and yet in a typical online poker rewards program, depositors get very little rewards beyond their initial sign-up bonus offer. While the average rakeback from Stars Rewards does increase as your total rake contribution increases, the biggest determining factor for the size of your rewards is your player profile. The player profile calculation has many factors, but the biggest factor is whether you are a net depositor or a net withdrawer. Players who regularly contribute to the PokerStars poker economy get rewards as high as 65% rakeback, while players who are already withdrawing from the economy in the form of winnings have their rewards reduced to as little as 5% rakeback.
Not only have they dramatically increased the rewards for net depositors, but PokerStars have also made the rewards program far more attractive to gamblers. Instead of getting a boring fixed rakeback percentage, players earn rewards chests with prizes that can vary from 7¢ to $50 for the lowest value chests and $10 to $1,000 for the highest value Stars Rewards chests.
So while the Stars Rewards program is clearly bad for winners, it is probably good for poker. If you're a winning poker player and the idea of getting as little as 2.5% rakeback sickens you, then we suggest you download Americas Cardroom, as they offer amazing rewards for all players:

Please disable Ad-Block on this site if you are unable to see the banner above
If you want a more detailed analysis of which site offers you the best rakeback rewards based on your specific player profile, feel free to complete our free rakeback calculator form.
While winning poker players will undoubtedly leave PokerStars in favor of other online poker sites offering better rewards, this isn't necessarily a bad thing for PokerStars, and is definitely an advantage for the players who remain (or new players who join). As the winners leave, the games on PokerStars will get softer. And keep in mind, a single professional is playing 10 times as many hands as an Enthusiast level player, so when a single online poker pro leaves PokerStars, it's the same as 10 winning enthusiast, or 480 winning casual players leaving! The exodus of winning players will eventually reach an equilibrium, because as the games get softer (and the games on other sites get tougher from the influx of winning PokerStars refugees), many of the winners will start to come back. Winning poker players need to ask themselves, "Would I rather get 60% rakeback against tough opponents, or 5% rakeback against easy ones?"
Is the Stars Rewards Program Legal?
Sadly, the online poker industry is not regulated at all. However, the new Stars Rewards program does raise an interesting legal question: can an online poker site give out rewards based on your playing profile? Certainly slot machine companies got into trouble for profiling players, but they were using that information to manipulate people to keep them addicted. By contrast, PokerStars aren't using your profile to manipulate betting habits, but instead just to reward losing players more than winners.
It's possible this sort of rewards program is legal because rewards are a privelege, not a right. PokerStars does not rake winning players more, they just give them back less, and while this will undoubtedly seem like semantics to the Supernova players who just lost tens of thousands of dollars, it may be an important legal distinction. The strongest argument that the Stars Rewards program might be illegal is that winning players are essentially being discriminated against. Personally, I think it would be an interesting legal debate. However, even if the Stars Rewards program was deemed to be illegal, it would be impossible to enforce. Think of it like counting cards in Blackjack - the player isn't cheating, they are simply using the information made available to them. However, casinos are allowed to ban card counters, which is an example (and precedent) of discrimination against skill.
PokerStars Stars Rewards Summary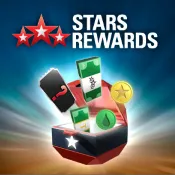 The new Stars Rewards program has slashed the rewards for high volume, winning poker players. Winning players will undoubtedly earn higher rakeback rewards on sites with traditional VIP loyalty rewards programs, such as Americas Cardroom or PartyPoker.

The entire Stars Rewards program is designed to attract gamblers and casual players, especially those who deposit more money than they withdraw. While this system may not be very appealing to grinders (who would much rather receive a fixed rakeback percentage), playing against gamblers and casual players should be very appealing! As more and more winning poker players leave PokerStars to earn more rakeback elsewhere, the games on PokerStars will get softer.
While the Stars Rewards program is bad for winning players, it's probably good for the game. Poker needs a constant influx of money to offset the money that leaves in the form of rake and winnings. Giving huge rewards to winning players only increases the negative cash flow and since these players are already winning, these rewards are largely unnecessary. The Stars Rewards program is an attempt by PokerStars to fix this imbalance, and if they are successful, then perhaps they can halt the current dwindling of the online poker population!
As a final note, I have seen a great many claims that PokerStars are intentionally hiding the details of this rewards program. However, the frequency of each reward for each chest type is published on the PokerStars website, and they were very forthcoming with details whenever we asked for clarification. Rather than giving the typical cut & paste non-response we typically receive from online poker sites, the team at PokerStars were genuinely interested in helping us decipher the Stars Rewards program.
Keep in mind that the details in this article are old - they reflect the Stars Rewards progam as it was initially implemented. PokerStars have since simplified the program, under the guise of these improvements, also slashed the rewards for everyone essentially in half! So much for rewarding the "net depositors"! With the new program, that table comparing Stars Rewards to Supernova is almost entirely red, with virtually nobody being better off! To learn more about the updated Stars Rewards program, click here.
What do you think? Is the new Stars Rewards program good for the game? Have you abandoned them in favor of better rewards elsewhere? We would love to read your feedback in the comments below.